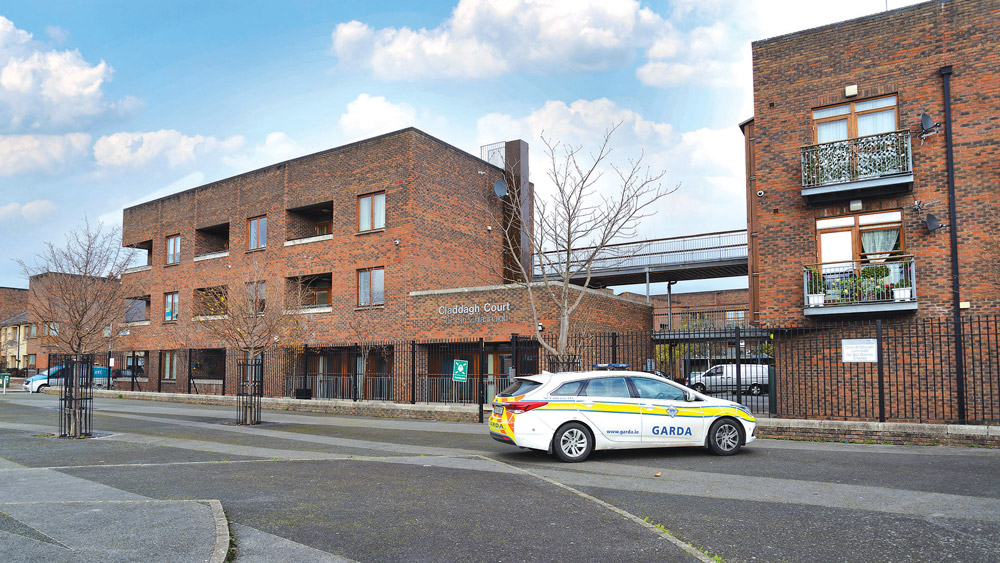 Murdered man was not a resident of Claddagh Court
SECURITY has been a source of concern for residents at the elderly housing scheme in Claddagh Court for years, and it is to the fore this week after a man was murdered at the complex.
A woman was arrested on Tuesday morning in connection with a fatal stabbing of a man at a premises in Claddagh Court.
The Echo understands neither the woman, in her 40s, nor the victim, named locally as David Ennis, in his late 30's, are tenants in the Dublin City Council complex, which is for people over the age of 55.
The gated community in Ballyfermot is home to 49 units, but security breaches have been a common complaint for years.
At a local policing meeting in Ballyfermot in July, a Claddagh Court resident reported a number of late night trespassing incidents at the complex, and blasted the lack of a garda response to her calls.
Cllr Hazel De Nortúin (PBP), said it was classic case of 'cuckooing', where a vulnerable person's property is overtaken by people to deal drugs.
"The elderly resident had people coming and going for years, but whatever happened, it got out of control," she said.
"The access issue has gone on for so long. The fob key (access control system to open gate) had to be re-issued because it was given to family members. [the city council] are trying to get a handle on it, but are falling down on this.
"I invited Brendan Kenny (former DCC Deputy CE) out to the complex in 2018 to meet residents, but with new staff, area managers and covid, maybe that relationship needs to be built up again. On Friday, there weas a man, not a tenant, who was walking around the car park with his trousers down."
Cllr De Nortúin continued: "I've been calling for a year to fill vacancies in there which is crazy when we have a housing crisis. If it was an approved housing body place, this wouldn't be allowed. We have to weigh up what this causes for residents. If one says 'I'm fine' but they are being intimidated, the council have to find out. Not all issues merit a response but at the moment, residents are not being listened to.
"Measures will have to be put in place. It is extremely unfortunate that it takes a murder for this to happen."
A garda spokesperson said they are investigating "all of the circumstances surrounding the death of a man following an incident in Ballyfermot, on Tuesday, November 8."
"Shortly after 2.30am, gardai and emergency services attended at a flat in Claddagh Court, Ballyfermot, where a man aged in his late 30s was found with an apparent stab wound.
"The injured man was treated at the scene by emergency services personnel but was pronounced dead a short time later."
A woman in her late 40s arrested on Tuesday in relation to the incident was released without charge on Wednesday evening.
According to gardai, a file is now being prepared for the Director of Public Prosecutions.