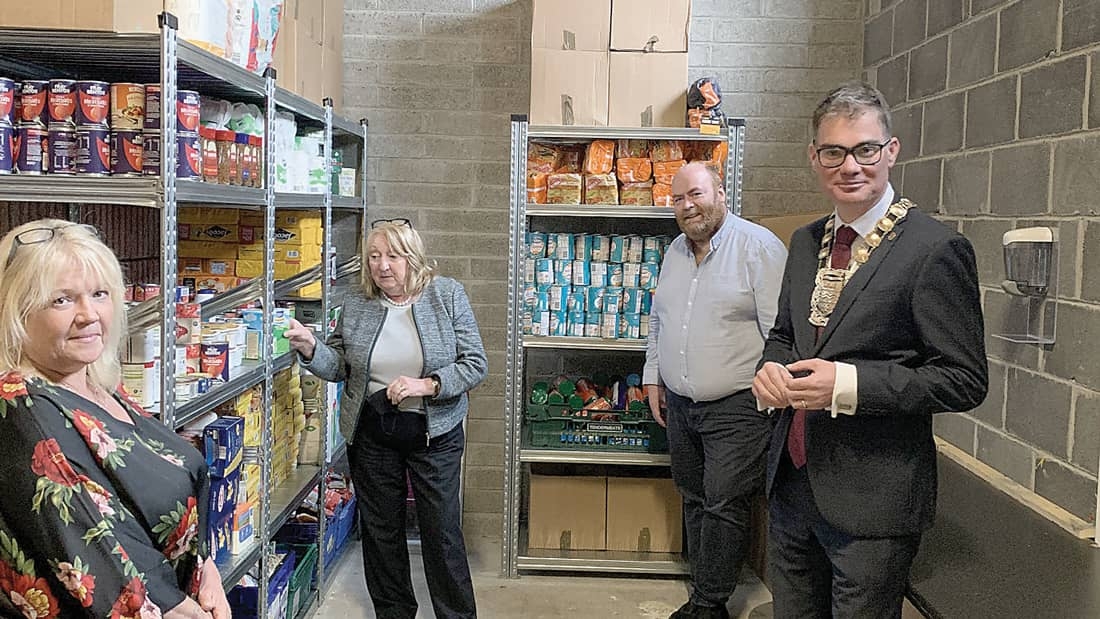 New food bank for Dublin 22 area
By Maurice Garvey
A PARTNERSHIP between Clondalkin Helping Homeless and St Vincent De Paul has led to the establishment of a food bank in the Dublin 22 area.
The foodbank will operate every Tuesday from 11-1pm in the Bawnogue Youth and Community Centre.
Marie Cronin (Vincent De Paul), Mayor Ed O Brien, Cllr Francis Timmons (Founder Clondalkin Helping Homeless) and Dolores Hanlon (Bawnogue Community Centre Manager)
All recipients will be vetted by SVP beforehand.
Cllr Francis Timmons (Ind), who established CHH in 2014 said people must contact SVP before they arrive at the centre.
"SVP will send me a list every Monday and we will prepare a food bag for people on the list. Bawnogue Youth and Community Centre have kindly donated space to have the food bank that will serve the Clondalkin area," he said.
Timmons believes Covid-19 highlights the need to be "prepared for any emergencies."
"The Clondalkin food bank will ensure we have a stock of food available for those in need. CHH has evolved to assist those most in need in our community.
Our FoodCloud services will continue as is, but the food bank service will allow for collection of food as agreed.''
If anyone needs to avail of this food bank, they will need to ring the helpline on 087 7618586 with their name and address.
They will then be assessed by their local SVP Conference to be approved for this facility.
Cllr Timmons continued: "You must ring the food bank helpline to ensure your name is on the list. Unfortunately, we cannot help anyone who has not been approved. We also ask that people bring their own bags to bring food away in."
By subscribing to The Echo you are supporting your local newspaper Click Here: Echo Online.