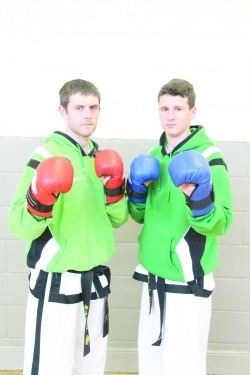 Newlands pair to compete on World Championship stage
NEWLANDS Taekwon-Do Club competitors Stephen Smullen and Reece Byrne are in Jesolo, Italy this week contesting the ITF Taekwon-Do World Championships.
The pair are part of a 39-strong Irish team of junior and senior competitors who are accompanied by coaches, umpires, officials and supporters for this
competition which started yesterday (Wednesday) and continues through until Sunday.
Smullen will line out in the Senior -78kg Sparring division on Friday morning alongside 55 other competitors from around the world and will also represent the Senior Irish squad in team patterns and team sparring.
Meanwhile Reece Byrne will take his place in the -75kg Junior sparring division on Saturday morning.
Smullen is a coach at the Newlands Taekwon-Do Club and has previously represented Ireland at the World Championships in 2009 in Argentina and 2011 in New Zealand, bringing home a bronze medal on each of these occasions.
Looking forward to his return to the world stage he said "I have been training for the past six months to be ready for the World Championships, training up to 10 sessions per week including TKD training, strength and conditioning and recovery sessions."