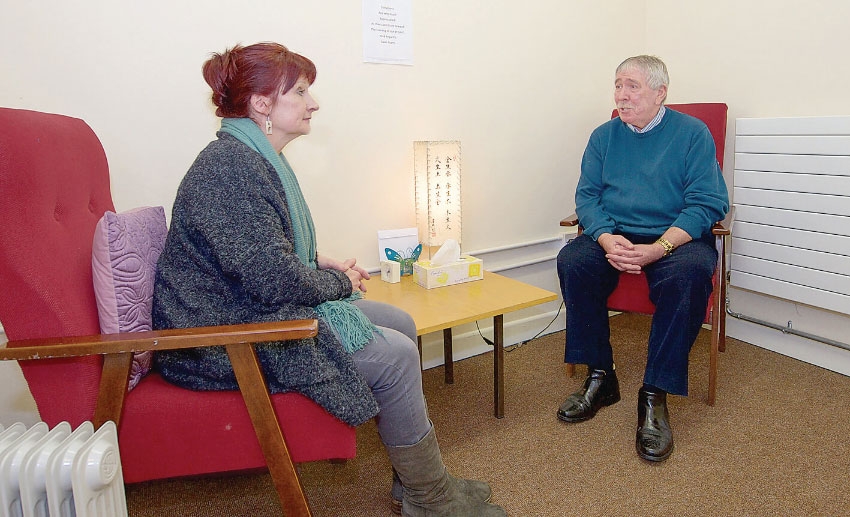 Swan family support crucial
By Mary Dennehy
SWAN Family Support raised the community's case for an accessible play therapy programme when the Tallaght-based service was visited by two Government ministers.
Based on the grounds of St Anne's primary school in Fettercairn, Swan Family Support grew from grassroots level after members of the community identified a need to provide support to all family members and individuals under stress as a result of substance abuse.
Volunteer counsellor Kathy Kavanagh with Swan manager Eamonn White
For the past two decades, Swan has been raising the importance of family support when it comes to treating addiction issues – providing stress management and counselling in a holistic setting to people suffering from addiction issues and parents, partners, grandparents, children, brothers and sisters.
On Friday (January 25), Swan continued to raise the importance of family support, and the need for adequate funding, when the Minister for Children, Katherine Zappone TD and Minister of State, with responsibility for the National Drugs Strategy, Catherine Byrne TD visited the service.
While highlighting all of the supports and programmes delivered by the service, Swan spoke with the ministers about its delivery of a new play therapy programme.
Speaking with The Echo, Swan manager Eamonn White said: "There is a huge demand for play therapy, and the reason we launched the service was in response to the community.
Swan FSO is based on the grounds of St Anne's school
"Play therapy is not accessible to those in marginalised communities, it's very expensive, and the HSE have huge waiting lists.
"Play therapy gives children a way to express themselves and helps them and their family members to understand a certain behaviour."
According to Eamonn, the outcomes of play therapy can be life changing for children and their families, with parents also engaging with the programming and receiving direction.
"Play therapy can result in a happier child and a happier family," Eamonn said.
"It also has a knock-on effect on a child's school and community life and can give them a much better chance in life going forward."
With current resources, Swan can provide play therapy to 12 children at any one time.
However, the waiting list for the service is growing, with close to 30 children now on Swan's waiting list.
"We are running the programme on a shoe string and are getting to a stage where it's not viable," Eamonn said.
"We have a unique model here at Swan where we provide stress management and counselling in a therapeutic and holistic environment.
Jessica Murray and Nicola Byrne (CE Supervisor) demonstrating some of the holistic therapies offered by Swan
"We're also on the grounds of the local school, which is a familiar ground for many local families.
"All of our services are free, if people can leave a donation well and good and if they can't afford to leave a donation then that's ok too."
Eamonn stressed that all of Swan's professional councillors and play therapists volunteer, and are all trained up fully or working towards accreditation.
"We have to have the same compliance as very well-funded places.
"The compliance has to be the same."
Manager Eamonn White with Rose Gannon, Margaret Cronin and Marie Laverty
Highlighting the need for resources, Eamonn told The Echo that Swan is trying to get into the Community Services Programme (CSP), which would support employment and funding – strengthening the centre's service.
"It was great having the ministers here and we had a good talk," Eamonn said.
"They both play a part in resourcing Swan through Tusla and the Tallaght Drugs and Alcohol Task Force… the task force's support is vital to us.
"However, the community deserves better resources, agencies need to invest in us."
For further details on Swan, which works with around 100 families per week, visit www.swanfso.ie or call 4627999.
For further details on the Tallaght Drugs and Alcohol Task Force and the many projects and services across Tallaght visit www.tallaghtdatf.ie