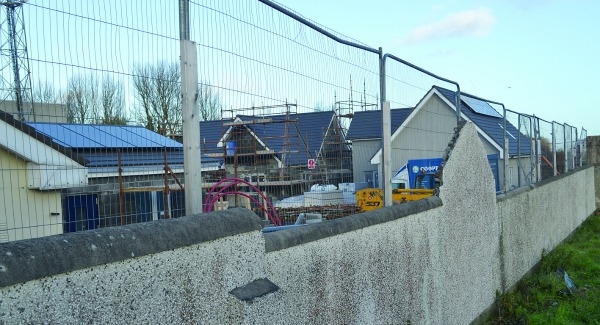 Three new traveller units to be completed in 2016
By Laura Lyne
WORK continues on the re-development of the traveller accommodation site on the Belgard Road, with €700,000 being spent on upgrading the oldest traveller accommodation site in the county.
Three new houses are currently being built on the 30-year-old site, with families vacating the site to allow re-development earlier this year.
As reported in The Echo back in May, residents of the site have been rehoused while the development is taking place as part of South Dublin County Council's Traveller Accommodation Programme 2014-2018.
Plans for the development were created following a meeting of residents with South Dublin County Council, where they discussed their needs and what would be required within the new units.
A council spokesperson told The Echo: "It is anticipated that the new units will be completed by end of second quarter 2016.
"The development proposal is as designed during discussions with the residents was approved to proceed by the department. The design is in keeping with the confines of the location.
"The estimated cost [of the project] is €700,000. The funding for the project was approved by the Department for the Environment Community and Local Government from the Social Housing Capital Programme funding stream."
Over 2,200 travellers were identified within South Dublin County Council's administrative area in the 2011 Census, making up 550 families across the county.
It is the highest traveller population within the Dublin region, and the second highest population of traveller families within the country.
Plans for the improvement of the Belgard Park, located near Roadstone Quarry, have also been in the pipeline as part of the programme, with the council meeting with residents to discuss improvements that can be made on the site.
Provision of 87 new traveller accommodation units at an estimated cost of €21.75 million is included within the Traveller Accommodation Programme 2014-2018, and does not include the cost of re-developing sites include the one located on the Belgard Road.
READ MORE
Heroic teenager had to undergo
three hours of life-saving surgery
Church robbery leaves community
Pregnant mother and her six
children forced out by bank –
Shop Local Christmas 2015
Cemetery car-park to get CCTV
at a cost of €30,000 – Click HERE